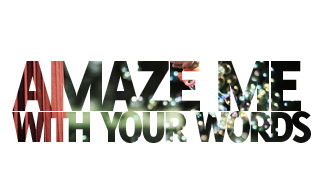 "Nobody can go back & start a new beginning, but anyone can start today & make a new ending"
-Maria Robinson
what's the last thing you read or are currently reading ?
No books, magazines if anything. more like Aaron's texts
do you nap a lot ?
not enough
who was the last person you hugged ?
my madre
what's your current obsession/addiction ?
Photos with quotes in them, bold word quotes with gorgeous backgrounds
what are you wearing right now ?
AE dark skinnies, Lucky jacket, black v neck T, Miss Me tan studded boots and a necklace watch
what was for dinner ?
toasted bagel!
what have you been listening to lately ?
Asher Roth's Remix on Boom Boom Pow, the Higher, Usher, Paramore, and any good tunes that hit the Radio stations
if you could have any super power, what would it be ?
To Fly
what is your favorite weather, and why ?
Bright bright sun at the highest point in the sky! and a cool breeze to free from the hot sun rays that beat down
what was the last thing you bought ?
Mmmmm... Nursing Scrubs i believe
If you could have a house- totally paid for, fully furnished- anywhere in the world, where would you want it to be ?
Ahhhh thats really really hard.... Overseas is the first thing to pop into my head...
I'd choose England... so much history to it and beautiful sites.
favorite vacation spot ?
So far, California :)
favorite pair of shoes you keep going back to over and over, even though your closet is overflowing with a zillion others ?
Gray Vans, the go with everything, comfortable, and very chill
name one thing you cannot live without :
My family!
if you could wake up anywhere tomorrow, where would it be ?
shoot... Probably california, maybe somewhere near simi valley :) ha